Services

Full Service Pharmacy
We are a full service dispensing Pharmacy where we can fill your regular prescriptions written by a medical doctor or licensed healthcare practitioner. As well, our licensed pharmacists are trained and experienced to provide one on one consultation regarding bio-identical hormones, natural supplements and drug interactions.
---
Free Local Deliveries
We deliver within an 8 kilometer radius of any Skycare Pharmacy at no extra charge! That covers Newmarket, Aurora, East Gwillimbury, Holland Landing. We also offer free overnight delivery accross Ontario.
---
Nutritional Supplements; we've partnered with the best to serve you the best.
Skycare Pharmacy offers a broad range of pharmaceutical grade supplement lines only available to healthcare practitioners, as well as many hard-to-find, exclusive or specialty supplements. Some of the lines we carry are Metagenics, Xymogen, Biotics Research, Genestra, Innate Response, Douglas Labs, Pure Encapsulations, Nordic Naturals, Ascenta, Advanced Orthomolecular Research, Cyto-Matrix, Thorne Research, and many others.
We also have a unique homeopathic remedies & herbal extracts section. Some of the lines we carry are UNDA, Heel, Pekana, Boiron. St. Francis Herb Farms
---
One on One Private Consultation
Do you have questions about your health? Do you have a chronic disease? Do you want to learn more about your medications or supplements? Do you want to understand bio-identical hormones and whether they are right for you?
If you answered yes to any of these questions, call Skycare Pharmacy and arrange an in-depth, private one on one consultation with one of our highly trained Pharmacists. Our medication experts can educate you on your disease and how your medications work in your body to keep you healthy.
---
Skycare Loyalty Program
Join the Skycare Pharmacy loyalty program today and begin collecting points to be used towards your in-store purchases. The idea is simple, with every $100 spent in store, you receive up to $15 to be spent on any items in-store*. (Does not apply to prescriptions)
---
Medication Reminders
Our Compliance Packaging cards help organize your medication to ensure your doses are taken and at the proper time. Skycare Pharmacy will organize your medications in special cards that each hold up to a 7 day supply.
---
Medication Disposal & Home Drug Cabinet Clean ups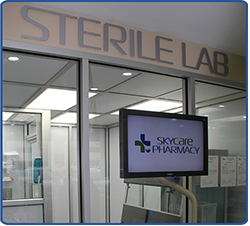 Bring your expired or unused prescription and non-prescription medications to Skycare Pharmacy. We can dispose of them in an environmentally responsible manner. Skycare Pharmacy also offers free Medicine Cabinet cleanups. One of our skilled Pharmacists will come to your home and inventory the drugs in your household, then clean out and dispose of any outdated, contraindicated or inappropriate medications, moreover we will work with you to create an organized and safe drug delivery system.
---
24 hour - Online Refills
Refill your prescriptions quick and easy with our online refill service.
---
Click here for information about the proper methods to dispose of expired, damaged, and unusable medications.
---
If you would like to transfer your prescriptions to be filled at Skycare Pharmacy, we will gladly do that for you. Just provide us with your prescription details and from where you get it dispensed and then leave the rest to us.
TOP